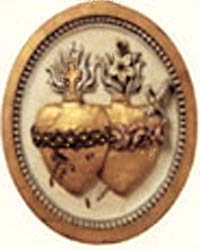 She stood at the foot of the Cross: not to mourn-that would have been far too small, far too remote from Him, for the sharing in the Passion which was her part-she came there to die-to stand quietly by the Cross and die.
The condition of finding Him was the loss of herself. She had to die, even out of her self-donation to God. She had to die out of her love, and this in spite of the fact that self in her was not egoism but simply the being, the separate being of herself which made it possible for her to do the will of God with her own will.
In our love, self becomes selfishness. In Our Lady it was a flawless self-giving. Her unity with Christ was complete: they were one. He sacrificed His life: life died in Life itself. Because He sacrificed Himself, she had to sacrifice her­self: she was sacrificed in Him. On Calvary she saw herself die in Christ.
When Christ saw her standing by His Cross and near her the boy apostle, John, He said to her: "Woman, behold thy son." There can be no doubt about His meaning. A few hours earlier, this boy had sat at table with Christ. He had leaned his head upon Christ's breast and heard His heart beating. And that heartbeat was the music accompanying His prayer, the prayer offered on what was very nearly His last breath.
He prayed that all those who loved Him should be made one with Him, that they should all live in Him, so that they would have only one life: His. From the moment when Christ told Our Lady to see Him, her son, in John, she saw Christ in all Christians. She took her only son to her heart in all men born.
She saw now but one Man abiding in mankind. How far from her would it have been say that be­cause she loved Christ, she could love no one else: she knew the secret: there was no one else.
As He looked down from the Cross, with eyes already full of death, Christ saw a huge crowd of people around Him. For these people He was dying. Yet He did not say to Mary: "Mother, behold me in this crowd." Or: "Mother, take me to your heart in humanity." For to Him, as to His Father, each one in the crowd was present, and He loved each one as if that one alone existed. It was not for a crowd that He was dying, but for each person in the crowd; not for the human race, but for each member of the human race.
Those reformers who think that men can be made to love one another by legislation, that the Kingdom of Heaven can be provided by the county council, that the brotherhood of man can exist without the Fatherhood of God, always have in their minds a picture of a multitude which they call "humanity." But no one can serve humanity, can make men happy, unless he first knows one man, unless he knows what spells happiness for one man, what things are to one man's peace.
Before God there is one Man: Christ.
Our Lady took all men to herself in John, this one human being in whom Christ dwelt. Once again Christ was forming in Mary, for the Advent had come which was her preparation for bearing Christ in all the Christians in the world. And, just as in the first Advent, she served Him by seving another man. Then it was Joseph; now it was John.
She found Christ in everyone, and everyone found Christ in her, because they did not know that she was an extraordinary person who had given birth to God or that she had given birth to a mysterious life in themselves. They only knew that she was inexhaustibly sympathetic, illimitably wise, and wholly lovable.
At Pentecost she was with the Apostles, and the Spirit descended upon them and filled the earth with His glory. The Bride of the Spirit heard the silence of her own heart singing…
(Caryll Houselander "The Reed of God" )
Our Lady lives what Our Lord commanded and gives us the example to follow. We recall Christ's words :  John 15:12
"This is my commandment, that you love one another as I have loved you."